Our Governors
Staff Governors
Appointing Body - Staff
Parent Governors
Appointing Body - Parents
Community Co-opted Governors
Appointing Body - Governing Body
Mrs Hilary Scarnell Chair of Governors
Miranda Oghogho
Local Authority Governors
Appointing Body - Local Authority
Faye KnightSafeguarding & On-Line Safety Governor
Associate Members
Appointing Body - Governing Body
Mr Andy Williams
Ex- Officio
Mrs Julie Braithwaite (Headteacher)
Governors' Statement of Written Principles
At Lincewood Primary School we believe that children can only learn effectively if they feel safe, secure and happy.
Together we nurture curiosity and positivity to promote aspiration and build prosperous futures. Through our community we inspire strength, resilience and equality for the wellbeing of all.
At Lincewood, though our ICARE core values, we aim to be: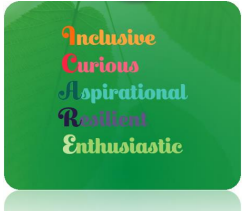 Our ultimate aim is to promote self-discipline and to offer pupils incentives to work hard and conduct themselves appropriately. We use a Thrive approach to our behaviour management and set high expectations of our entire school community. We use positivity and rewards to encourage pupils to be and do their very best.
Behaviour and Discipline Policy
Ethos and Values including Thrive
The Role of the Governor
The role of the Governing Body is to help the Head Teacher to ensure that all our children are happy, safe and are given the opportunity to reach their full potential.
We are responsible for all aspects of the School from agreeing the curriculum to how money is spent on resources such as books, computers, pencils, the upkeep of buildings and grounds etc.
Our role is to act as a critical friend to the school by ensuring that standards and the achievements of the children and teachers continues to be of the highest possible.
Governors have a collective responsibility for important financial decisions in the school. Governors complete skills matrices to ensure the necessary skills are in place. Governors have identified that the overall strategy for the school is 'to provide a quality standard of education to local primary age children using all the resources we have available to us to maximise the opportunities we can make available to them and be the local school of choice'.
School Governors come from all walks of life and experiences. If you are interested in joining us, no particular skills are required as full training is included at our expense. Being a School Governor is however a very interesting role and one where you can help shape the future of our young people and our communities.
Annual Governance Statement 2022.23
Governors Business Interests 2023/2024
Attendance at meetings 2023/2024
Attendance at meetings data 2022/2023